VSI History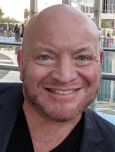 Founder
Randy Salter
Los Angeles, California
Diagnosed with vitiligo in 1995, Randy had become frustrated with the general lack of understanding in the medical community and the difficulty in finding a doctor familiar with current treatments.
In May 2000, with the help of several programmer friends and associates, Randy registered VitiligoSupport.com, and began a grassroots group providing vitiligo patients an organized central location to find information and share support. The unique support community featured volunteer staff, community forums, chats, an interactive doctor search and a comprehensive FAQ page. With frequent news and forum updates, and an understanding and caring atmosphere, Vitiligo Support soon became the most popular destination on the Web for those affected by vitiligo.
In 2003, Randy met Jackie Gardner, an active website member who had experience in patient advocacy. With Jackie's guidance and encouragement, the organization began working in the real world, advocating patient needs in Washington, D.C., fostering awareness, participating in medical conferences, promoting clinical trials, and encouraging research to better understand vitiligo and development of new treatments.
In January 2004, VitiligoSupport.com incorporated and became Vitiligo Support International, Inc., a nonprofit public benefit organization operating under Section 501(c)(3) of the Internal Revenue Code. A Board of Directors and Medical Advisory Panel were formed, and the organization began using the web address VitiligoSupport.org. Randy remained active with VSI's Board until 2008, when he returned to a full time law practice; and still remains with VSI in an advisory role.
Jackie took over as Executive Director in 2008, continuing to establish VSI, with its more than 50,000 registered members, as a national organization committed to improving the lives of those with vitiligo.